The Long Dark

Episode 1 thumbnail

Information

Episodes

61 (as of January 28, 2016)

Premiere

October 3, 2014

Finale

TBA
The Long Dark is a post-apocalyptic survival game set in the Canadian wilderness, available on Steam. Stacy began playing this game in an alpha mode, and since the series began there have been many updates, including an in-game drink item named in her honor: Stacy's Grape Soda.
Overview
Edit
"The Long Dark is a thoughtful, exploration-survival experience that challenges solo players to think for themselves as they explore an expansive frozen wilderness in the aftermath of a geomagnetic disaster. There are no zombies -- only you, the cold, and all the threats Mother Nature can muster." - Steam
After 55 episodes, the series was put on hold in February 2015, and may continue with new game modes, maps, or large updates being implemented.
In December, 2015, Stacy finally brought the series back.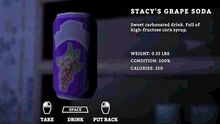 Stacy's Grape Soda
Edit
As a way of saying thank you to Stacy, The developers of The Long Dark named a drink 'Stacy's Grape Soda' in her honor, this was because of Stacy expressing her love of Grape Soda in several of the videos and also because Stacy was bringing more positive attention to the series.
Episodes
Edit
For a full list of episodes in The Long Dark Series, click here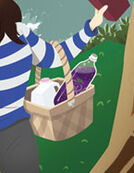 The Long Dark is currently the longest running Non-Minecraft series on Stacy's channel.
The final episode of the Long Dark exceeded 1 hour and is the third longest episode on the channel.
The Long Dark is currently on indefinite hiatus until a new map or a new gamemode is introduced, because Stacy doesn't want to be redundant in her episodes.
Stacy made two of her Monday Vlogs into 'The Long Dark IRL' which reinacted the gameplay of the game.
Stacy's grape Soda appears in the 'Once Upon a Mesa' Poster (alongside a bottle of Milk ).
A "Merry Marathon" of 'The Long Dark' episodes were uploaded during the winter of 2014-15.
References
Edit