The Crafting Dead

Episode 1 thumbnail

Information

Episodes

44

Premiere

June 20th, 2013

Finale

September 25th, 2013
The Crafting Dead
was a modded survival series featuring
Stacy
,
Joey
and occasionally
Meghan
and iJustine.
It was based off of The Walking Dead TV series.
Overview
Edit
The series was different because the land was more flat and medical centers and other buildings could be found, zombies were the only threat and didn't burn from sunlight (like normal Zombies in Minecraft), they were also faster.
This was the first series to feature Stacy's running gag of trying to prank Joey, the series also had some of the most popular videos for Stacy's channel at the time.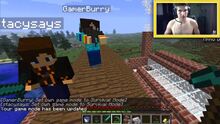 Casa de Stoey
Edit
'Casa de Stoey' was the name given to Joey, Stacy and Meghan's home which was originally a medical center, the name was based off of the ship name fans gave Joey and Stacy. Some of the building was made through creative mode and featured it's own bridge and back garden. Joey had a secret underground room and Stacy designed a lot of the interior.
Cancellation
Edit
Before the end of Season 3, fewer episodes were churning out. Stacy later told viewers that Crafting Dead would go on a hiatus until eveything was sorted out. Then came the shock to many Potato Flakes. Shortly after the hiatus announcèment, Stacy said that Crafting Dead had been cancelled, manly due to recording date problems. The Crafting Dead did return in 2017, however this only lasted for 3 episodes.
The Crafting Dead Returns
Edit
On June 6th, 2017, The Crafting Dead returned to Stacy's channel as a roleplay mini series as a part of Meghan and Joey's pre-existing Crafting Dead world. This also features Graser10 and Kiingtong. This series has met it's end.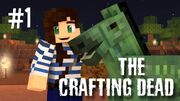 Episodes
Edit
For a full episode list click here.
The series is noted for being having some of Stacy's most viewed videos at the time.
This is one of only a few series on Stacy's channel to contain a face-cam. 
The series is also remembered for having several running gags, memorable moments and popular quotes:
The series was the first to have Meghan collab with Stacy.