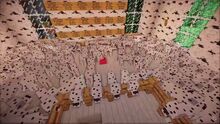 The 101 Dalmatians are very significant on Stacy's channel, as they are not only featured in most Dogcraft episodes, but the real-life book is also featured in Bookcraft. 
One of Stacy's main goals in Dogcraft was to collect 101 Dalmatians, due to her love of dogs and the Disney movie of the same name. She achieved this by breeding Pongo & Perdita almost every episode and naming the puppies after viewers, friends and suggestions.
Originally, Stacy bred the dalmatians on the third floor of her apartment, in which she named the 'Dalmatian Plantation', but she later made another build, based on a building from the book, known as 'Hill Hall'.
Pongo and Perdita
Edit
Pongo and Perdita are the parents of the 99 Dalmatians and were the first Dalmatians tamed by Stacy. Much like the book characters, Pongo and Perdita have the same color collars (red and blue).
After their dogs were stolen by Cruella de Vil, Pongo and Perdita traveled through the Bookcraft portal and waited for Stacy to come and rescue the Dogs.
Cruella de Vil
Edit
Cruella de Vil is the main villain of the book. She was originally mentioned by Ms. Reedsalaught  in Bookcraft, and the two were apparently college roommates.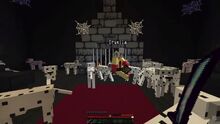 In episode 123 of Dogcraft, Cruella de Vil created a portal (made from books) to bring her from the Bookcraft universe to the Dogcraft world. At the time Stacy had just reached the 101 Dalmatians and in the Bookcraft world Stacy had been building from the 101 Dalmatians book.
Cruella took the dogs to her home ('Hill Hall') where Stacy, with the help of her Bookcraft dog Dogear, eventually found and killed Cruella, freeing her dalmatians in the process. 
Hill Hall
Edit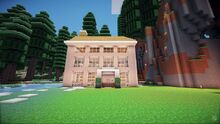 In the Bookcraft universe, 'Hill Hall' was Cruella's home and place to contain the Dalmatians, after Stacy had defeated Cruella and returned the dogs, Hill Hall was "magically brought into the world of Dogcraft and restored".
The build is behind the Tom Cat Towers. It was placed here because in the books, Hill Hall was in a Snow Biome.
Poodle Place
Edit
The Poodle Place is the 3rd story in the Hill Hall where all of the dyed poodles live. They were all bred there and were usually taken to Dr. Ninehealer's Clinic after birth. Now, all 14 dyed poodles live in there, including the first poodle, Georgette.
Poodle Place Dogs:
Georgette- Light Gray
Sugar- White
Plum- Purple
Puddle- Light Blue
Cyanna- Cyan
Goldie- Yellow
Tiramisu- Brown
Flossy- Pink
Fauna- Green
Forest- Lime
Flora- Magenta
Marmalade- Orange
Scarlet- Red
Azure- Blue
Onyx- Black
Grayser- Gray
List of the Dalmatians of the Dalmatian Plantation:
Edit
| # | Name | # | Name |
| --- | --- | --- | --- |
| 1 | Jaspar | 53 | Red |
| 2 | Enzo | 54 | Tanner |
| 3 | Toast | 55 | Helen |
| 4 | Daisy | 56 | Alice |
| 5 | Scamp | 57 | Victoria |
| 6 | Pennie | 58 | Mckenzie |
| 7 | Cupcake | 59 | Peekatchu |
| 8 | Indahly | 60 | Christian |
| 9 | Magic | 61 | Stevie |
| 10 | Dash | 62 | Cord |
| 11 | Quincey | 63 | Angelina |
| 12 | Wonder | 64 | Lydia |
| 13 | Harley | 65 | Ricarda |
| 14 | Kayla | 66 | Sam |
| 15 | Crystal | 67 | Gwydian |
| 16 | Mykaila | 68 | Nathan |
| 17 | Dennis | 69 | Jaspanda |
| 18 | Ryan | 70 | Amy |
| 19 | Christian | 71 | Angelica |
| 20 | Emily | 72 | Andrew |
| 21 | Olivia | 73 | Eva |
| 22 | OliviaSW | 74 | Marc |
| 23 | Luke | 75 | Nicky |
| 24 | Elmer | 76 | Blizzard |
| 25 | Matthew | 77 | Kate |
| 26 | Veronica | 78 | Rain |
| 27 | Milky | 79 | Teagin |
| 28 | Bere | 80 | Trent |
| 29 | Dana | 81 | Pigglet |
| 30 | Hope | 82 | Izzy |
| 31 | Georgia | 83 | Socks |
| 32 | Laura | 84 | Aileen |
| 33 | Cason | 85 | Mom |
| 34 | Ben | 86 | Dan |
| 35 | Ydolem | 87 | Julia |
| 36 | Freddi | 88 | Kristen |
| 37 | Katelyn | 89 | Sophia |
| 38 | Turner | 90 | Patrizia |
| 39 | Shawn | 91 | Lizzy |
| 40 | Andy | 92 | Lilly |
| 41 | Cupquake | 93 | Pudgy Cat |
| 42 | Anthony | 94 | Jeo |
| 43 | Will | 95 | Meghan |
| 44 | Whippet | 96 | Austin |
| 45 | Anthony Jr. | 97 | Kieran |
| 46 | Liv | 98 | Jessica |
| 47 | Bitta | 99 | Pongo |
| 48 | Emily | 100 | Perdita |
| 49 | Sydney | 101 | Emmy |
| 50 | Gabi | | |
| 51 | Julie | | |
| 52 | Alayna | | |