—Stacy, main outro
stacyplays
[[File:
Name

Stacy Hinojosa

Nickname(s)

Stace
Button Queen (by Joey, Lizzie, and herself)
Stacyanya (by Joey)
Butt Queen (by Amy and Cupquake)
Susan (by Amy)

General

Gender

Female

Birthdate

August 23, 1983

Current Residence

Utah, USA

MC Username

stacysays

Media Status

Active

YouTube

Channel
Current Series

Dogcraft

Date Created

March 10, 2013

Status

Active

Secondary Channel
Secondary Channel Status

Active

Twitch

Channel
Status

Active

UHShe

Date Joined

June 2015

Ranking(s)

S1: 4th
S2: 7th
S3: 11th
S4: 3rd
S5: 4th
S6: 3rd
S7: 8th
S8: 8th
S9: 5th
S10: 10th
S11: 4th

Season Span

S1-11

Episode Count

82

Social Media

Twitter
Facebook
Instagram
Stacy Marie Hinojosa [1] is an American YouTube personality and author known for her popular gaming channel 'stacyplays' and vlogging channel 'stacyvlogs'.
She tends to show appreciation for her fans, calling them "Potato Flakes," and selects and shows their submitted fan art in her popular series, Dogcraft. She is also a consultant for the Epic Reads YouTube channel, among other professions such as being a writer, Gamer, Milk Aficionado, producer, and photographer. Stacy also takes care of her parents' dog Polly.
Personal Life
Stacy was born on August 23, 1983, and she currently lives in Utah with her pets Molly, Pipsqueak, and Milquetoast. She spent some of her childhood growing up in Germany due to her father being in the military. While living there, she often watched Disney movies. Residing there, she learned to convert time in military hours and considers herself to be a "military brat."[2]
She has also lived in Los Angeles working with various celebrities, companies, and websites including Teen.com, JSYK.com [3], and Cambio.com. While working at Teen.com, she met her best friend Joey Graceffa, and the two eventually started playing Minecraft together. After deciding to move on from Teen.com, she focused mainly on her gaming channel. Because she did not work in Los Angeles anymore, she moved to Salt Lake City, Utah, for the benefit of her dogs. The move also allowed her to travel to conventions more frequently since her parents could now take care of her pets. 
Stacy's Pets
Main Articles: Page, Molly, Polly, Pipsqueak, Milquetoast, and Chica.
One of Stacy's best-known facts is that she loves animals, particularly her six pets, Page, Molly, Polly, Pipsqueak, Milquetoast, and Chica. Page and Molly are Stacy's best-known pets, along with being referenced in Stacy's channel since it's launch in 2013, the two are also the primary subject in Stacy's famous outro.
Page has been portrayed as the more mature dog, along with being Stacy's editor in a Monday Vlog, Stacy has also mentioned that Page is her favorite of her dogs. In 2019, Page was euthanized because of her long battle with Cushing's Disease.
Molly is a Diva, who frustrates Stacy due to her frequently needing medicine, it's also hinted that Molly does not see the point in Minecraft.
Polly is known as Stacy's third dog, with a combined name and appearance of Page and Molly, she is owned by both Stacy and Stacy's dad.
Milquetoast was adopted by Stacy in 2015 and was the first cat. Milquetoast is named after one of Stacy's Dogcraft characters and is popular with fans in terms of Fan Art and video views.
Pipsqueak is her most recent pet. He is very funny and is also named after his character in Dogcraft.
Chica is known as Stacy's fourth dog, she is owned by Stacy's mom and rescued from Puerto Rico.
Each of her pets has their own character in her YouTube series Dogcraft.
Milk
Main Article: Milk
Milk is a white drink rich in fat and protein. The drink has become a popular trademark and icon of Stacy's channel, with Stacy consistently expressing her love of the drink and traditionally carries a bucket of milk in her Minecraft inventory. Despite this, Stacy has expressed interest in switching to drinking plant based alternatives. 
Wild Rescuers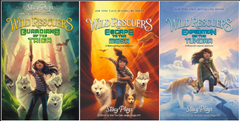 The series is heavily based off of Stacy's Dogcraft series and features her and her pack of wolves on their adventures together. The cover is illustrated by Vivienne To. On October 21st, 2017, Stacy announced the release of her first book, titled Wild Rescuers: Guardians of the Taiga. The book went on sale on June 5th, 2018. It is the first book of the Wild Rescuers series.
Stacy's second book in the series, Wild Rescuers: Escape to the Mesa, was relesased on the 9th of April 2019.
The third book in the seires, Wild Rescuers: Expedition on the Tundra, was released on the 3rd of March 2020.
The fourth book, Wild Rescuers: Sentinels in the Deep Ocean, was released on the 2nd of Febuary, 2021.
Stacyplays
Main Article: Stacy's Youtube Channel
Stacy created the StacyPlays channel on March 10th, 2013, for the sole purpose of communicating with her and Joey Graceffa's fans, but she eventually decided to upload Minecraft videos to her channel. Due to this, Stacy often refers to herself as an "Accidental Youtuber". The channel recently reached over 2,000,000 subscribers. 
Her channel was originally partnered with Alloy Digital and is currently partnered with Maker Studios.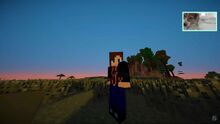 Dogcraft is a modded single-player survival series where Stacy rescues dogs and creates many dog-themed builds. Dogcraft is notable for being Stacy's most popular series, and the first episode is the most watched video on her channel. In most episodes of Dogcraft, Stacy breeds a dalmatian puppy and names it after a viewer in hopes of eventually getting 101 dalmatians. Usually, at the beginning of the episode, Stacy goes to her Minecraft Art Gallery and showcases fan art sent from fans.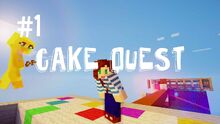 Cake Quest is a survival series featuring Sqaishey.  They crash landed on a space cake that had been using sheep for sprinkles. The two are on a quest to save the sheep that are in a factory to the north. Aside from the main task of rescuing the sprinkles, Stacy and Squaishey farmed for food and also created most of their resources for tools such as a cobblestone generator and a tree farm.
The Candy Isle is a modded survival series featuring AmyLee33. Both are mermaids in the series which features marine life such as turtles, crabs, and whales. The series also features fairies which can carry out jobs if tamed with sugar.
Bookcraft's first episode was uploaded on Oct 7, 2014. Stacy set off in a fresh, vanilla Minecraft world with a single mission in mind - book themed builds! In this series, Stacy picks out her favorite books and builds scenes using Minecraft materials. The first book she ventured into was The 21 Balloons. After attempting to build many scenes from the book, she eventually decided to work with a build team to speed the book along, and better bring her ideas to life.
The build team she works with is called the Walschaerts Build Team, featuring Nathan_Oneday, the main member and founder of the team; PDawgWoolf, co-founder; Wezarr, head architect; GenericUnicorn, builder; Grayman99, builder; Jaspanda, redstone specialist; Zim_M, architect; and KenMcDee, builder.
The second book chosen was Charlotte's Web, followed by The Hatchet, 101 Dalmatians, and Misty of Chincoteague. On average, there are about 5-7 large builds for each book. Bookcraft is one of Stacy's most difficult series to film, considering the amount of work it takes behind the scenes.
In The Hatchet, for example, Stacy mentioned that the first episode took almost 11 hours to film and edit. Episodes are uploaded on Tuesdays and Fridays according to the weekly schedule, but this has been suspended for the remainder of the summer.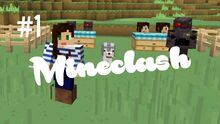 Mineclash is a weekly series Stacy plays with Graser10. Mineclash was originally three-episode series. Occasionally other gamers (e.g StrauberryJam and HeyImBee)are invited, the general aim of the game is to collect multiple objects in survival while being based on movies, popular culture, geography etc. The first person with all the items wins the challenge.

The Monday vlog is Stacy's weekly video blog. She talks about life events, new merchandise, new series, and any changes to her channel that are happening. In 2017, Stacy retitled this series "Milquetoast Mondays".
UHC Stats
Cube UHC Elimination History 
Stacy first appeared in season 5. 
Stacy returned in season 5-8 & 20. 
Stacy did not compete in season 9 - 19 & 21. 
| Season | Team | Status | Episode(s) | Kill(s) | Rank | Team Rank |
| --- | --- | --- | --- | --- | --- | --- |
| | | | | | | |
| 5 | - | Slain by Tofuugaming | 11 | 0 | 2nd | - |
| 6 | Team Knights | Slain by Minecraft4Meh - Slimes | 5 | 0 | 20th | 12th |
| 7 | - | Killed by Grapeapplesauce | 10 | 0 | 4th | - |
| 8 | Tigermilk | Shot by ThatOneTomahawk - Deep Voice | 8 | 1 | 3rd | 2nd |
| 20 | - | Slain by TheBestGinger13 | 7 | 0 | 12th | - |
UHShe Elimination History 
She is the founder and participant of the UHShe series who was introduced in the first season and also returned for the second, third, fourth, fifth, sixth, seventh, eighth, ninth, tenth and eleventh seasons. She is the only participant who has appeared in all seasons.
She got her first-ever kill in Season 5 and placed 2nd alongside with RealSquigGames. She also placed 2nd alongside with iHasCupquake in Season 10.
She won her first-ever UHShe or any UHC. She won the Season 11 alongside with Banoffee.
Season
Team
Status
Episode(s)
Individual Kill(s)
Team Kill(s)
Individual Rank
Team Rank
S.1
-
Shot by Lilshortysgs
7
0
-
4th
-
S.2
Kinda Confident
Shot by heyimbee - Aussie
9
0
0
7th
4th
S.3
-
Suffocated in a wall (Border)
4
0
-
11th
-
S.4
-
Slain by RealSquig
6
0
-
3rd
-
S.5
Team One
Slain by MKtheWorst - Team 8
8
1
5
4th
2nd
S.6
-
Burnt to a crisp whilst fighting RealSquig
10
0
-
3rd
-
S.7
-
Slain by Phoenixgg2
8
0
-
8th
-
S.8
Slazzie
Shot by Marielitai - GiraffyPumpkin
9
0
0
8th
5th
S.9
-
Blown up by Creeper

Indirectly caused by lava

4
0
0
5th
2nd
S.10
Team One
Slain by Sydney01 - Team Seven
7
0
2
10th
2nd
S.11
Team Five
Slain by PinkDiamondDiva - Team Four (Winner)
11
0
2
4th
1st
StacyVlogs
Main Article: Stacyvlogs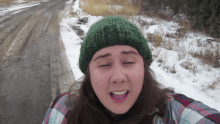 StacyVlogs is Stacy's vlogging channel, she mainly posts "follow me around" vlogs to this channel. She also posts gaming-related vlogs to her main channel StacyPlays every Monday.
The channel was originally edited by her friend Andy Rose. In 2016, Andy briefly returned as the editor of the channel. 
The channel currently has over 300,000 subscribers. In regards to her vlogging channel, Stacy has said:                                 
"I have a plan for this channel that will probably not take shape until the New Year.. but do not worry. Big things ahead. Thanks for all your support."  [4]
Quotes
Main article: StacyPlays/Quotes
Gallery
Trivia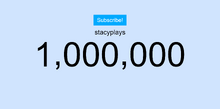 Stacy's viewers are known as "Potato Flakes", due to her favorite milk containing potato flakes.
Stacy reached the milestone of 1,000,000 subscribers on the 4th of March 2016.
Stacy is currently the second most viewed female gamer in North America.
She studied Journalism in college and minored in Political Philosophy. [5]
Stacy has Celiac disease. [8]
The creators of the game "The Long Dark" named the item "Stacy's grape soda" after her.[9]
She took piano lessons as a kid. [10]
She has never eaten a tomato. [11]
The earliest known video to feature Stacy was in Joey Graceffa's Hunger Craft survival series, episode 28, Stacy (while working for Teen.com) also featured in Finnick audition and the camping challenge.
Prior to Minecraft, Stacy was obsessed with Farmville. [12]
Her favorite movie is "The Chipmunk Adventure". [13]
White is her favorite color. [14]

Her favorite color combination is blue and white. This is present in her Minecraft skin as well as being present in many of her clothing and attire. 

Her favorite flower in Minecraft is the peony, and her favorite real-life flower is the Ranunculus.[15]
She loves using alliteration.

For example, her Dogcraft Vet is named "The Hound Hospital".

Her favorite Minecraft mobs are Donkeys. [16]
As stated in her vlogs, Stacy's favorite British candy is Galaxy chocolate.
Stacy says that she had almost every type of job, including jobs in retail, food service as a cook and a waitress, she's worked in a golf course, in a cubical, and has been a boss who's had to hire and fire people. [17]

Some of her previous jobs include: Mother's Helper, Banquet Server, Paper Route, Babysitter, Golf Course Employee, Banana Republic Employee, RCN Employee, and Website blogging.

Stacy's favorite game as a child was Yoshi's Island. [18]
During the first 24 hours of her videos, Stacy has said that she usually reads almost all the comments. [21]
She is implied to have come from a military family as she can tell/convert time using military hours and considers herself to be a military brat.[22]
She used to work and live in New York.[23]
She despises parkour. 
When she reaches a certain height, either real life or video game, her legs often tingle. 
As a young girl, Stacy wanted to be a paleontologist. [24]

Her favorite dinosaur was a Parasaurolophus. [25]

One of her favorite shows is ABC's Shark Tank.[26]
Stacy's celebrity crush is Chris Pratt. [29]
Stacy enjoys listening to Male-Fronted indie rock bands, including Jimmy Eat World, Bloc Party, Keane, OK Go, The Honorary Title, Hellogoodbye, Vampire Weekend, The Temper Trap, and mostly The Killers. [30]
Stacy was almost named Stella Maria Hinojosa. [31]
Stacy is one of six Minecraft YouTubers to be asked to voice act her game counterpart in Minecraft story mode.
Stacy is one of two of the five Minecraft YouTubers in episode 6 and always to survive to be in season 2 of Minecraft story mode, the other being Stampy cat.
References