Stacy created StacyPlays channel on March 10, 2013, for the sole purpose of communicating with her and Joey Graceffa's fans, but she eventually decided to upload Minecraft videos to her channel. The channel recently reached over 1,000,000 subscribers.
Her channel was originally partnered with Alloy Digital but is now partnered with Maker Studios.
Profile picture
Edit
Stacy has had three profile pictures throughout her channel, the first was of her, the second profile picture was an avatar Stacy created through Chibi Maker.
The third is Stacy's present profile, which is Stacy's face from her current Youtube Banner.
Youtube Banner
Edit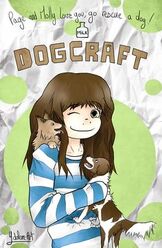 Stacy's Youtube Banner has also changed three times throughout it's creation. The first featured a plain yellow backdrop with a cartoon Page and Molly, the middle had the title 'Stacyplays', similar to her old vlogging banner.
The second featured a grassy minecraft landscape, the third was created by a Stacy fan called Ydolem (Melody spelt backwards) art. This came after Stacy saw and loved a piece of fan art created by Melody, Stacy then asked her to create her Banner which Melody happily agreed to.
The Banner featured Stacy running through a cave with Page and Molly following behind, along with Wink (winking) from
Dogcraft
, and the fox from
TRI
.
Subscriber total
Edit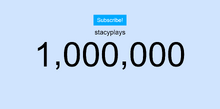 Stacy reached the milestone of 1,000,000 subscribers on March 4th, 2015.