Page
Nickname(s)

Pagey (by Stacy)

Characteristics

Race

Dog, golden retriever and sheltie mix.

Gender

Female

Personal Status

Status

Alive

Relatives

Media

First Appearance

Episode 8 "Double The Dogs" (Dogcraft)
Page is one of Stacy's real life dogs. Page was rescued from a golden retriever shelter although her breed is unknown. She was named Page before Stacy adopted her but Stacy decided to keep the name as she loves reading. She was rescued on April 28th, 2007. 
In Dogcraft, Page is a Golden Retriever. And very clever, smart, and a little grumpy.
Personality
Edit
Page (alongside Molly) frequently appears in Stacy's Monday Vlog videos. During Page's Q&A, Page was straight to the point. 
Stacy has said how Page is a very good guard dog, and during Minecon 2015, Stacy said:
"Page, I say that Page loves you but, she would also like to get used to you first."
Stacy has also mentioned that Page knows a lot of tricks.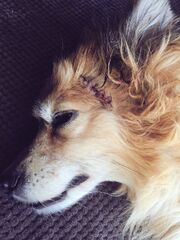 On June 27th, 2017, Page underwent surgery to extract two teeth and to remove an uncontained cyst on her head that was beginning to spread. Luckily, the surgery was successful and Page recovered quickly. 
In Dogcraft
Edit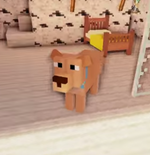 Stacy named a dog in Dogcraft after Page, she first appeared in episode 8 and has since moved into Stacy's home.
Page's ProblemEdit
Episodes such as 'Page's Problem' and 'Page's Secret' had Page as the primary topic, where Page was eventually revealed to be pregnant, and she soon had several children. 
Page's Rescue DayEdit
In episode 112, Stacy made Page's ears perk up to match the real life Page.
The Dog ShowEdit
During the first Dogcraft Dog Show, Page was sorted into the Sporting Group along with Dug, Pongo, Perdita, and her children. Page was chosen to move on to the second round. However, during the second round, Page didn't do well during the Dog Agility Course, and overall she was ranked in 4th place. 
During episode 112 of Dogcraft, Stacy said that the day before (April 28th) was the 8 year anniversary that Stacy rescued Page, meaning Page was rescued April 28th, 2007.
Stacy made a Twitter account for Page.
In Noob Quest, Stacy's skin was based on Page, and Stacy's original username was "MyDogPage". Because the skin resembled a fox more than Page, Stacy renamed her username "StacyTheFox".
Stacy often jokes that Page is her favorite between her and Molly. 
Page likes Polly more than Molly 
On a scale of one to ten, Page rates Molly of how much she loves her a -2.
Page's "middle name" is Elizabeth. [1]
Page likes to eat small animals.
As of 2018, Page is 12 years old.
During Stacy's quick four minute live stream, she began to cry when talking about Page's health, and revealed she was not doing so good. She also revealed on part two of the last Farlands stream she was not doing well, and said they would not talk about it.
Stacy revealed on Twitter that Page was diagnosed with Cushing Disease, however, she has given Page some medicine, and states that she is doing alright.
Page can be seen on the side of Stacy's book, and is a main character in it as well.
She has been on a plane more than 17 times.
She is also on the cover of her second book as well.
References
Edit