Monday Vlog

Stacyplays Q&A thumbnail

Information

Episodes

47 (as of January 12, 2016)

Premiere

June 16, 2014

Finale

N/A
The Monday Vlog is Stacy's weekly video blog. She talks about life events, new merchandise, new series, and any changes to her channel that are happening.
Overview
Edit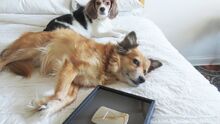 The Monday vlogs are fairly different to Stacy's vlogging channel, the monday vlogs mainly relate to Stacy's gaming series and upcoming events while Stacyvlogs focusses more on general vlogs and trips.
The Monday vlog has had Stacy record her appearances at several conventions, including E3, Comic Con, Pax South, Mine Con and Vidcon. The series has also been good for Page and Molly, who both appear multiple times in the vlogs, Page was once shown answering fans qustions and editing Stacy's videos while Molly had her own vlog being 'Diva' like.
Friends of Stacy who have appeared in the vlogs are Cupquake, Stampy, Sqaishey, Amy and many more. The vlogging channel features numerous other topics, such as DIY (Do It Yourself), Unboxing, IRL (In Real Life), upcoming events and also personal topics such as Stacy recording a Q&A and also talking about her Insomnia.
Upload Schedule
Edit
Traditionally the Monday Vlogs are uploaded once a week on the Mondays. But as of late Stacy hasn't been posting them every week; currently, the monday vlog is posted anywhere from monthly to bi-weekly.
Episode List
Edit
For a full episode list, click here.
Stacy uploaded herself unboxing her Youtube trophy for reaching 100 thousand subscribers, Lizzie was with her along with Page and Molly.
The vlogs have promoted Stacy's Merchandise and recorded the shirts being made, along with the photo shoots.
In her most recent episode, Stacy shows that she has rescued a stray cat and has named him "Milquetoast."

In a previous vlog, Stacy showed interest in a gray kitten that lived in her Granparents farm. Hoping that she could take it home. In a way, this foreshadows her getting Milquetoast.