—Lizzie - main intro
LDShadowLady
Name

Elizabeth Dwyer

Nickname(s)

Lizzie
Lizzanya (by Joey)
Beth (by family members)

General

Gender

Female

Birthdate

October 7, 1992

Current Residence

Liverpool, England, UK

MC Username

LDShadowLady

Media Status

Active

YouTube

Channel
Current Series

Kingdomcraft Faction SMP

Notable Former Series

Shadowcraft, Enchanted Oasis

Date Created

January 9, 2010

Status

Active

Secondary Channel
Secondary Channel Status

Inactive

Twitch

Channel
Current Series

Animal Crossing

Status

Active

UHShe

Date Joined

June 2015

Ranking(s)

S1: 10th
S2: 16th
S3: 12th
S8: 11th

Season Span

S1-3, S8

Episode Count

22

Social Media

Twitter
Facebook
Instagram
"LDShadowLady", also known as "Lizzie" (real name "Elizabeth Dwyer") she love cats and she is a 27 year old British female gamer who is famous for her Minecraft gameplays. She has accompanied Stacy in many Minecraft series and are very good friends. She also likes to watch The Fuzzy Dorks.
Personal Life
Edit
LDShadowLady (or Elizabeth) currently lives in England with her husband Joel (Smallishbeans). She recently graduated from Liverpool University, where she studied 3D computer animation and visualization. She owns two pets, a cat, Buddy, and a Finnish Lapphund, Merrydm
She dated fellow British gaming YouTuber, Joel (SmallishBeans) for over five and a half years before they got engaged on November 6th, 2017. They announced this news on November 9th, 2017. They met at a gaming convention 'GameFest', and she was "wooed" by his dancing skills. As of May 13th, 2019, her wedding has been her top priority.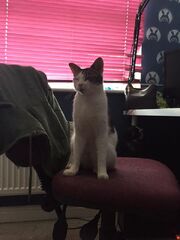 LDShadowLady's hair has been a popular icon for the channel due to the colour (pastel blue and pink). LDShadowLady started YouTube as a girl with short, brown hair (Lizzie was born with natural brown hair).Then, she dyed it red with a black streak in her bangs. She sported this for a long time before dying it the purple. After a couple of years,she dyed it pastel pink and pastel blue.She even once dyed Joel's hair pink and purple! In 2019 her hair is still pastel pink!
Lizzie has dyed her hair over 10 times, most of which being different pink shades, the hair color she is most known for is pink because her Minecraft skin is a replica of her.
Collabs With Stacy
Edit
Pumpkin Quest
Edit
Main Article: Pumpkin Quest
Stacy and Lizzie's first collab video was a mini-series called Pumpkin Quest, a map in which they performed various tasks for the mysterious "pumpkin king," and his allies. The story had Lizzie, Stacy and Joey having to retrieve three crystals in order to save the pumpkin universe and to also defeat 'Mrs. Cow'. During the series, Stacy managed to find a hidden button very quickly within a giant tree in the 'Sapling Forest' giving her the title of 'Button Queen'.
A running gag in the series was how the 'Pumpkin King' would gift Stacy, Lizzie, and Joey various things, from new tools to teleportation, when in reality it was just Lizzie's use of creative mode.
☀
Find the Button
Edit
After Pumpkin Quest ended, the trio made a reappearance in the shorter-still mini-series "Find the Button". Out of the 20 levels that they played, the final score was: Stacy- 10 buttons found, Lizzie- 5 buttons found, and Joey- 5 buttons found. Lizzie, Stacy and Joey started another series which required the three to find a button placed in the levels.
Main Article: UHShe
Lizzie (alongside Stacy) was one of the eleven original participants of UHShe, a survival series having the players fight to the death until the last survivor wins. Lizzie finished Season One in 10th place. Lizzie has participated in Seasons 1,2,3 and 8 of UHShe, but her most notable being Season 3, in which she fell in lava in episode 1.
Dogcraft
Edit
Main Article: Dogcraft
In Dogcraft, Stacy named a pet squicken after Lizzie early on in the series.The real Lizzie made a brief vocal cameo in episode 87, "The Puppy Bowl," in which she voiced Lizzie the Squicken in promoting the completion of bone mountain, a task which was soon completed.
Mini-Games
Edit
LDShadowlady has appeared in a few of Stacy's mini-game episodes. She appeared in Stacy's Halloween Park map, Stacy's first build battle episode, and a few others.
As one of Stacy's featured YouTubers, it is likely that she will appear in various ways in the near future, in either another UHShe, cameo or mini-series. She often does a Halloween and Christmas special with Stacy and Joey each year.
UHShe Stats
Edit
Elimination History
Edit
Season
Team
Status
Episode(s)
Individual Kill(s)
Team Kill(s)
Individual Rank
Team Rank
S.1
-
Walked into fire whilst trying to escape Aureylian
6
0
-

10

th
-
S.2
Yammallama DingDong
Slain by AshleyMarieeGaming - Applesauce
7
0
0
16th
11th
S.3
-
Tried to swim in lava
1
0
-
12th
-
S.8
Slazzie
Slain by BasicallyBea - Disney
8
0
0
11th
5th
LDShadowLady's Channel
Edit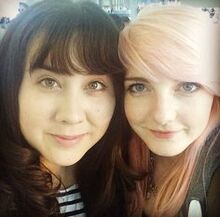 Lizzie's channel recently reached over 4,000,000 subscribers. She is known for her Minecraft series, but she occasionally plays other games as well. Some of her notable series include:
Crazycraft 3.0 2.0 and 3.0
Minecraft Build Battle
Trollcraft
SIms 4 Disney Princess Challenge
One Life SMP
Funcraft
One Life 2.0 SMP
Enchanted Oasis
The Deep End ( with Joel )
Minecraft Vs ( with Joel )
Factions ( with Joel )
Crafting Dead ( with Joel )
Funcraft
UHC ( Many series )
Kingdomcraft
X Life
LDShadowLady was hired by Stacy to make Minecraft videos for Teen.com.
In The Cube SMP, Stacy named one of her cats after Lizzie's real-life cat, Buddy. 
Lizzie did not record UHShe Season 8, only Stacy did. 
Lizzie participated in Cube UHC Season 4, where she teamed with Ashley Marie, Child Dolphin, and Vikkstar123, but ranked 17th after accidentally burning herself to death. 
Community content is available under
CC-BY-SA
unless otherwise noted.