Honey Moo Moo

Characteristics

Race

Cow

Gender

Female

Personal Status

Status

Alive

Media

First Appearance

"Udder Chaos" (EP.4)
Honey Moo Moo is a cow in Dogcraft who is currently Stacy's primary Milk producer.
Honey Moo Moo is currently running a buisness in a Milk bottle themed build which sells Milk in a bucket, bottled or in a glass.
In Dogcraft
Edit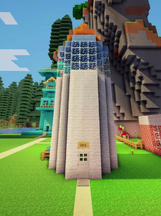 Honey Moo Moo's first appearance was in episode 4 of Dogcraft, where Stacy lured several cows into a farming pen, though it is unknown if Honey Moo Moo was among those cows or one of the babies bred afterwards.
Honey Moo Moo was then named in episode 5 where she remained with the other cows for many episodes. This was until Stacy selected Honey Moo Moo to run her new Milk shop where she'd supply the milk for Stacy.
Honey Moo Moo has been in the milk building ever since.
Honey Moo Moo is currently the longest living cow in Dogcraft.
Honey Moo Moo aired a commercial promoting her Milk buisness during the Puppy Bowl event.
Honey Moo Moo's name is based off Honey Boo Boo.